A NOTE FROM THE CHURCH COUNCIL CHAIR AND REOPENING TASK FORCE:
March 5, 2021
In-Person Worship – With the good news of decreasing COVID-19 infection rates, we feel we can once again welcome more worshippers to our Sunday services. Attendance at the 8:30 AM service in the Fellowship Hall will be limited to 10 people.  For the 9:30 AM service, pews in the sanctuary will be marked off for safe distancing.  Masks are required at both services.  Please sign in at the door when you enter the church.  Windows are open during the services, so it may be chilly – come prepared!
We will continue the live stream of our 9:30 AM service on Facebook. Watch for the Sunday Worship Memo that is emailed each week for the latest information about our worship services.
You can now watch the recorded 9:30 church service at Worship Service FUMCEG-YouTube. A video of the service will be uploaded to YouTube each week and should be available on Sunday afternoons.  Select the Subscribe button to get notifications from the church's YouTube channel.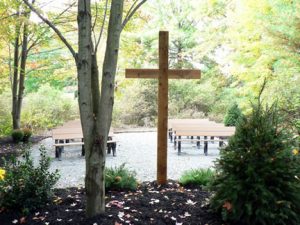 Early Worship Services: 8:30 AM
Services will be held in the Chapel in the Woods, weather permitting. During inclement weather, services are held inside the church.

Sacrament of Communion
The Sacrament of Communion is celebrated the first Sunday of each month. Our tradition is open communion, which means that all who are present, or watching on Facebook, are invited to receive the sacrament of the Lord's Supper.
Due to the COVID-19 pandemic, services at Hawthorne Ridge, Riverside Center for Rehabilitation and Nursing and Rosewood Rehabilitation and Nursing Center are cancelled until further notice.