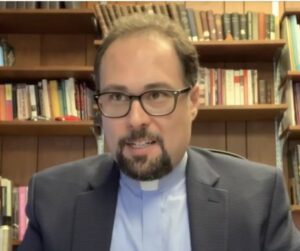 January: the month of revelation and breath prayer!
Yes, in the beginning of a new year, let the Breath of God breathe on you and fill you with life anew. January is the month of breathing. And God reveals Godself through breathing.
God's revelation is not only a historical event that happened about 2000 years ago and we celebrate it as Epiphany. No, God's revelation is an ongoing reality. January begins with Epiphany or the revelation of God incarnate as Jesus Christ. It results in the dissolving of existing boundaries. It dissolves the boundaries between the divine and human. God reaches out to us by breaking through the divide between the divine and human. God is the very manifestation of a love that is so extreme that it dissolves existing boundaries, including the traditional divide between the divine and the human. God reveals Godself to us because God loves us and wants to share Godself with us. "Indeed, without revelation, God would remain an abstract mystery to us—that is, "out there" as opposed to being Emmanuel, or "God-with-us," right here," says Father Patrick Cheng, an Episcopal priest, lawyer, and theologian in New York City. God is not an abstract and God still reveals Godself to us.
Revelation is an ongoing reality. To be felt in each moment, God is revealed to us as the only vital source of life, our very breath. In the eyes of a Hindu, God is "the sole king of the breathing," according to the Sacred Books of the East. In the eyes of a Muslim, God is the one who breathed God's spirit into us, according to Quran 38:72. In the eyes of a Hebrew and a Christian, God is the one who "breathed the breath of life" into us, according to Genesis 2:7.
In the eyes of believers, God is the One who is the source of all life. But we often forget we are breathing while we are breathing. Hence, we may forget that God and God's grace are always with us, and we may become discouraged or depressed. When that happens, a spiritual practice called breath prayer may save us as believers. To begin your breath prayer, close your eyes and recall a line from scripture. Be still, calm, peaceful, and open to the presence of God. Breathe in and out, with the first part of your prayer coming to mind on the inward breath and the latter half connecting with the outward breath. Continue your prayer for a set period of time or until you feel you have reached a sense of inner stillness as you dwell in the presence of God. You might use one of the following verses: 
• God, have mercy on me (This breath prayer is rooted in Psalm 123:3, Luke 18:13, and Luke 18:38).
• Speak, God, for your servant is listening (1 Samuel 3:9).
• My help comes from the Lord, the maker of heaven and earth (Psalm 121:2).
• Here I am (Isaiah 6:8).
• Show your power (Psalm 68:28).
• When I am afraid, I will trust you (Psalm 56:3).
• Not my will, but yours (Luke 22:42).
• Come, my savior God (Revelation 22:20).
Scientists say that 12 minutes of deep breathing each day is enough to transform the mind. We call God "Emmanuel" by doing breath prayer. Breath prayer can be a powerful reminder that God is with us and God's grace accompanies us in each moment of life. Would you like to join me and sing with me hymn 420?
Breathe on me, Breath of God, fill me with life anew, that I may love the way you love, and do what you would do.
Pastor Danyal