Making the World a Better Place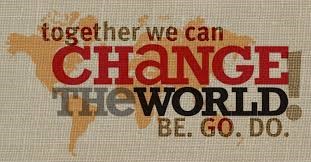 Kindness, combined with God's love, can change us and change the world. We witnessed more evidence of how true this statement is this past May during our church's tenth observance of Change the World. We had over 100 people participate in a variety of activities. On May 9th we hosted our first Moonbee. These sewing bees bring together diverse groups of volunteers who make reusable, washable menstrual management kits for distribution to girls living in poverty around the world. This results in girls staying in school longer, increasing their chances of receiving a good education.
Change the World Sunday began with an abbreviated worship service planned by Caring Ministries on May 21 followed by several community activities and a delicious luncheon that was prepared and served to all of our volunteers.
Many of us gathered at Van Rensselaer Heights, a low-income housing facility in Rensselaer. This was an opportunity to meet the residents who have struggled with isolation caused by the Pandemic. Those who attended enjoyed fellowship, refreshments and some wonderful, uplifting music provided by our sanctuary choir under the dynamic direction of Robert Thomsen,
accompanied by our organist Jackie Krahforst. Potted plants were decorated and delivered to all of the residents to brighten their rooms and their spirits.
Some of us spent time at Joseph's House with the Homeless in Troy reminding them of God's love. Our confirmands visited the Regional Food Bank to learn about the good work that goes on there. About 50 greeting cards were made and delivered to Evergreen Commons Rehabilitation and Nursing Home. A food drive was held for area food pantries and the VA Center.
Fifty-six shoeboxes were filled throughout the month of May with personal hygiene products for adults and children living in poverty in the mountains of Kentucky as part of the Red Bird Mission. This is our third year in a row participating in this very valuable mission project and brings our total number of shoeboxes donated to 167.
I would like to thank Pastor Danyal for his support, everyone who participated and our dedicated crew: Amber Telford, Amanda Trainor, Carrie Larson, Jean Sheviak, Aleta Schweigert, and Lorraine Beals.

John Schmidt